Skip to Content
Dental Veneers to Perfect Carmel, IN's Teeth
Cool Creek Dentistry offers a variety of cosmetic dental services for patients in Carmel, IN. Many individuals choose to get dental veneers to perfect the look of their teeth. These thin sheets of material adhere to the front of teeth and fix issues like staining, discoloration, crooked or misshapen teeth, uneven spacing, and chips. Veneers are very durable and long-lasting with a natural-looking appearance that blends with your mouth. After having veneers bonded to your teeth and a brief adjustment period, they look and feel just like your natural surfaces. You'll be able to enjoy all your favorite foods without worry about damaging the veneers, but you should avoid chewing on ice or biting down on hard objects or food. Let our caring staff beautify the appearance of your teeth today!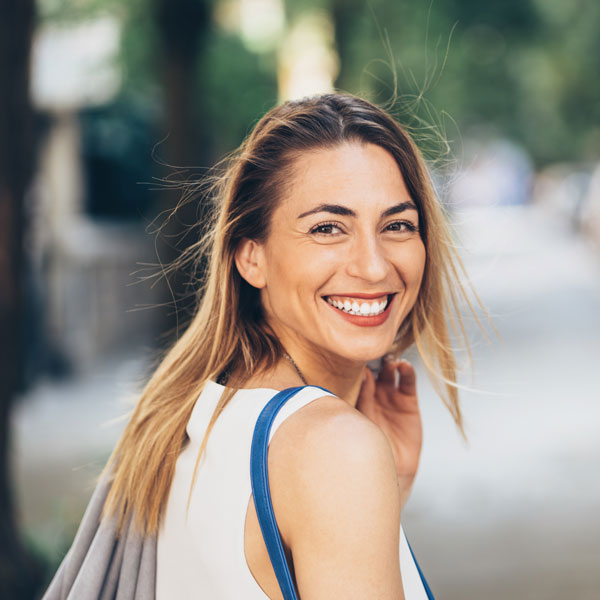 The Dental Veneer Application Process
Dental veneers offer a natural look to correct your imperfections, and they can last for years with proper care and use. The process to attach veneers to your teeth can be completed in two visits. It's very straightforward and virtually painless when skilled professionals like the ones at Cool Creek Dentistry carry out your cosmetic services. For your benefit, we've summarized the process for applying dental veneers:
The dentist starts by preparing your teeth for the dental veneers. He or she removes a very small portion of the enamel on the front and sides of your teeth to create room for the veneers.
Next, the dentist makes a mold or impression of your teeth. You and the dentist will also decide on the shade you'd like for the veneers.
We then send the mold or impression to a dental lab where technicians create the porcelain veneers to fit your teeth precisely and look natural. The process of making your new veneers may take several days. During that time, the dentist may put temporary veneers over your teeth while you wait for the permanent ones.
Your next visit will happen when we get the finished veneers from the dental lab. The dentist checks the shape and fit of the veneers by placing them over your teeth. After making any necessary adjustments, the dentist cleans your teeth and bonds your veneers to the front of them.
If we need to make any additional changes, we'll schedule a later appointment to perform them.
Visit Us for Cosmetic Care & A Beautiful Smile
The cosmetic specialists at our Carmel, IN dental practice are ready to help you get the radiant smile of your dreams. We'll make sure you can enjoy perfect-looking teeth, and we'll keep you comfortable throughout your treatment. If you've noticed soreness, pain, or anything else making your teeth and mouth uncomfortable, don't hesitate to give us a call and schedule an appointment. Reach out to our office by calling 317-815-6670 at your earliest convenience!